Why Slipform?
Slipform curbs have distinct advantages over traditional pre-cast concrete and bituminous curb products.
•Save Time: Depending on the product, one slipform crew can install hundreds or even thousands of feet of concrete curb in a single day.
•A Better Bottom Line: The installation rate alone allows for cost-savings of 30-40% from traditional precast alternatives.
•A Smaller Footprint: Saves job site lay down space.
•Higher Quality-Greater Flexibility: Concrete is poured directly on subgrade allowing quicker access for incidental landscaping before paving.
•Durability: Because of Slipform's unique casting and installation techniques, your product will last longer than bituminous curbs and pre-cast units.
---
How Does Slipforming Work?
Low slump, fiber-reinforced high strength concrete is delivered to the project site and is loaded and passed through the Slipform machine. This mobile machine directs the concrete through specialty molds to the specific locations on the construction site as it passes over the project. Depending on the requirements of the project, the concrete can be passed by the Slipform machine directly to reinforcement cages.
The Slipform machine moves along the placement area to deliver the concrete to discrete locations to form the final product- following designs and plans with unerring, precision all-the-while creating a unique on-site "Custom Cast" for your project.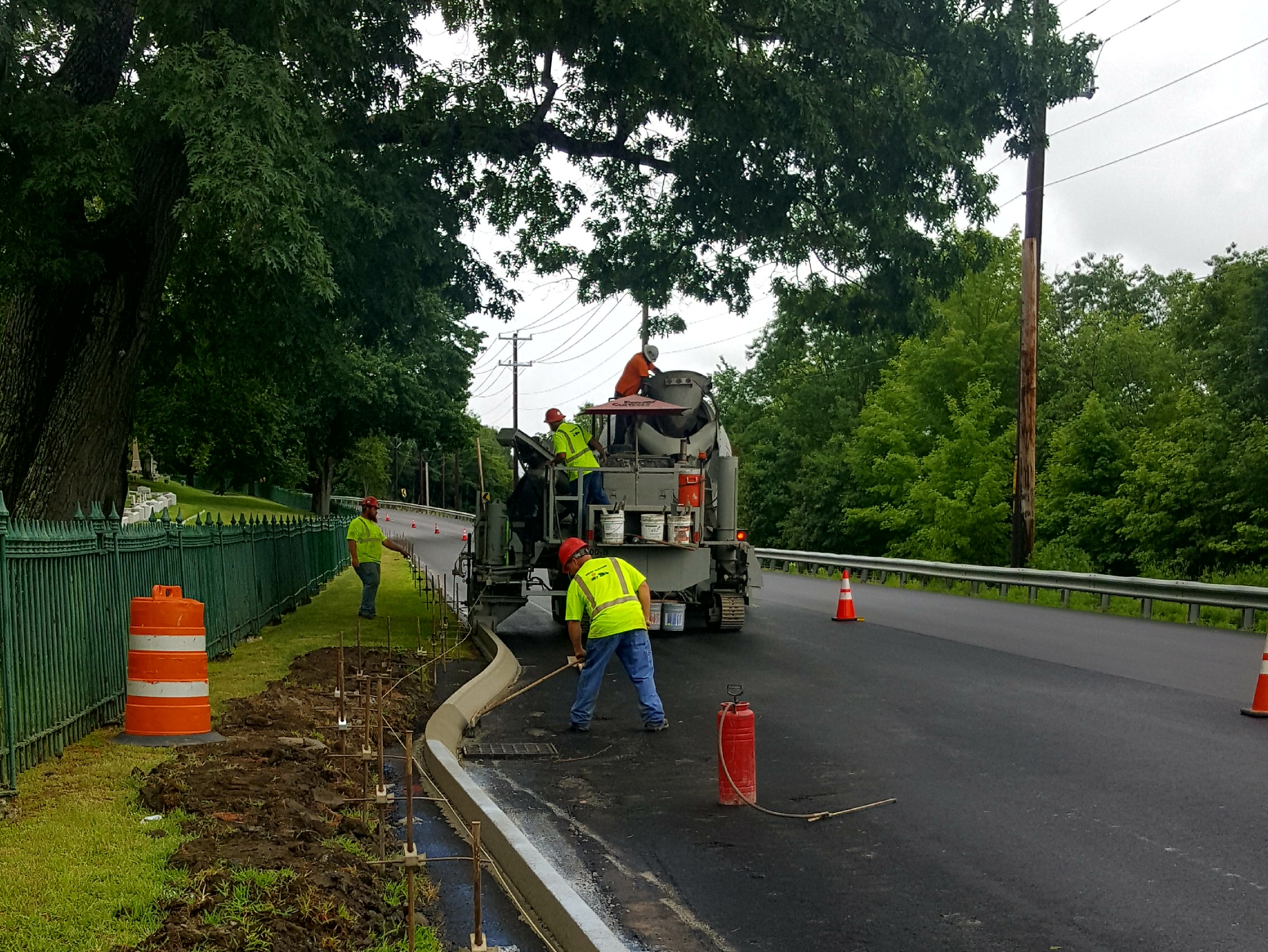 Compared to bituminous curbing, slipforming offers:
•Vastly superior strength and durability
•Longer design life reducing replacement construction costs
•Better subgrade bonding
•Stronger design against plows and other possible damage
•Slipform curb can be placed before or after paving, making scheduling more flexible
Slipforming offers these advantages over precast or granite concrete curbing:
•Cheaper per linear foot of material
•Requires less labor and machinery
•No moving or material handling required
•No space required for material storage
•More curb can be placed in one day by slipforming
•Quicker project completion
•Reduced roadway or parking lot closures
•Stronger design against loads, plows and other possible damage
•Better subgrade bonding
•Better curing and joint construction
•Continuous and more aesthetically pleasing radii as small as 24″
---
Slipform Molds
Please let us know if you want something you don't see.
Direct-to-pavement curbing
These curbs are epoxy to binder course of pavement, then surface pavement is installed.
---
Direct-to-subgrade curbing
These curbs are placed on a compacted gravel base, before pavement. Most of these molds are 6″ below finished grade and 6″ to 7″ above finished grade.
Please note: All designs can be modified in height per application.
Structural Integrity
While slipform curbing is economically feasible, it must also possess structural integrity. Concrete slipform curbing is, by design and construction, a structurally sound alternative to precast, granite or bituminous curbing.
Strength and Durability
Slipform curbing is stronger and more durable than precast or bituminous curbing. Slipform curb has similar strength qualities as cast-in-place concrete. The slipform curb will be slightly stronger due to its lower water content and low slump placement. Slipform curb can stand up to significant wear and tear from heavy vehicles and plows, unlike bituminous curbing. The continuous nature of the extruded product also gives the curb greater strength against transverse loading. Longer pieces are less likely to be shifted or broken by plows or other large vehicles. These pieces are longer and more stable as a result of the joint construction. Typically, a control joint is sawed every ten feet on center. This cut is designed to provide a location for controlled shrinkage cracking. The saw cut is made 1-3″ (25.4-76.2 mm) into the curb and helps direct the shrinkage cracks to the location of the saw cut. Once the cracks form, it becomes a keyed joint. The keyed nature of these controlled joints helps to resist transverse loading. Figure 1 to the right diagrams the keyed contraction joints and how they compare to precast joints. The precast joints are not keyed and therefore do not resist transverse loading like the slipform curbing.
Properly placed and cured slipform curbing will last as long as any well placed and properly cured cast-in-place concrete. Proper curing of slipform curbing can include the use of seal spray to assist the curing process, helping to strengthen material. This seal spray meets ASTM specifications for curing compound. As a results of the high strength qualities of slipform curbing, some contractors have witnessed plow blades breaking on slipform curbing.
Dirigo Slipform uses a standard 4000 psi concrete mix design with fiber reinforcement. This provides more adequate concrete strength for these applications. In some casts we pour over rebar cages or mats.
An advantage of slipform curbing over precast, granite or bituminous is the interface between the subgrade and the curb. Bituminous curbing can easily shear off of the subgrade when snowplows strike it. The bituminous curbing shears easily because it does not bond with the subgrade properly. Bituminous curbing is also a much softer and weaker material, which is why so much of it must be replaced after each winter.
Precast and granite pose similar problems with subgrade bonding. With precast and granite curb, each unit is placed onto a prepared subgrade. The block merely sits on the subgrade. With slipform curb, the extruded mixture fills subgrade voids and bonds the curb to the subgrade. The result is better stability and lessens the possibility of differential settling. Figure 2 to the right demonstrates the difference between precast, granite and slipform interfaces with the subgrade.
---