Our Story
Dirigo Slipform was formed in 1997. At that time, Slipform technology was a groundbreaking new construction technique for quick, efficient concrete placement. We saw the merits of Slipform as a way to better meet the needs of the customers and markets they serve and invested in the technology.
From there, things took off. The recruitment of the best employees allowed the company to make a strong introduction of Slipform technology to the New England construction market. Through the commitment of Dirigo Slipform employees; the company has grown and adds to a list of literally hundreds of projects successfully-completed – and enjoys the kind of repeat business that only commitment to quality and customer service can bring. Customers have seized on Slipform's advantages to efficiently and profitably manage their projects as well as an enduring and attractive alternative to traditional concrete placement. 
Dirigo Slipform operates throughout Maine placing concrete slipform curbs, curb and gutter, barriers and pathways in the commercial and public sectors. Dirigo Slipform is a leader in the slipforming industry in Maine.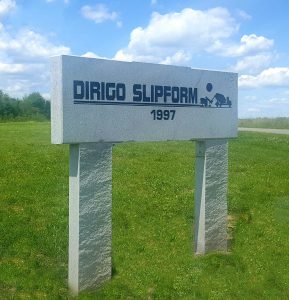 Building Relationships That Last
As we enter our 25th year of business, Jay Shorette (President) finds himself looking back at the path that has brought us here. Although many things have changed, He is proud to say that some things have not. We are a privately owned and operated company with family values and we have a constant dedication to being the best curbing and sidewalk company in New England.
We at Dirigo Slipform are taking a proactive approach by reinvesting in the employees through education and training as well as updating the equipment to maximize production and cost savings to you, our customer.
You can always expect extraordinary customer service from us. We recognize that every customer relationship is valuable and unique and welcome the opportunity to surpass your expectations.
We outshine our competition because we choose to; everyday.
---
Employees with over 5 years of service:
Jay Shorette 25 years
Harry Moreau 22 years
Robert Butland 8 years
Kevin Wright 6 years
Frank Casella 6 years
---
Community Support
Old Town Rotary – Old Town YMCA – VFW – Old Town Firefighters
United Way – Old Town River Fest – EMMC Foundation – Bangor YMCA – Camp Capella
Memberships